Courtesy of NMSU
LAS CRUCES, N.M. – A day after being named the Western Athletic Conference Hitter of the Week by the conference, New Mexico State softball outfielder Malena Padilla has been named the College Sports Madness WAC Player of the Week, the entity announced Tuesday.
The Aggie senior from Oakley, Calif., finished with a .571 batting average, a 1.429 slugging percentage and a .571 on-base percentage in three games last week, posting a pair of home runs and seven RBIs.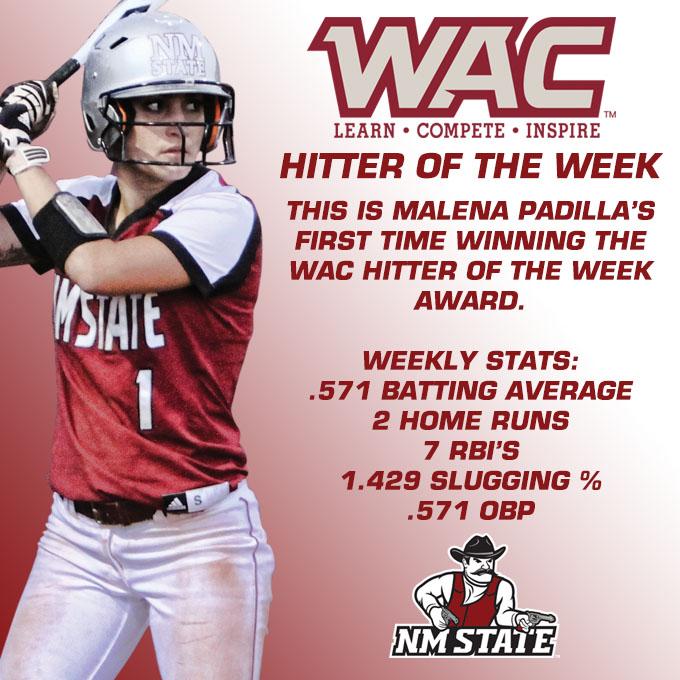 Her two home runs were her seventh and eighth of the season, tying her for second-most on the team this season.
Padilla's first long ball came in a come-from-behind win versus I-10 rival UTEP, a grand slam that was part of an eight-run sixth inning for the Aggies, who trailed 6-4 entering the inning.  She finished the game with five RBIs, tying a season high.
After hitting her first-career grand slam last year at the season-ending WAC Tournament, she now has three grand slams this season, and they have all come late in games, oddly enough all in the sixth inning, and all at crucial times in close games.
Padilla then got a hit during each game of a doubleheader against No. 17 Arizona, extending her current hitting streak to seven games.  In the second game against the Wildcats, she hit her second home run of the week and picked up two more RBIs to now lead the squad with 36 RBIs on the season.
Padilla hopes to keep her current hot streak alive today when NM State travels to Albuquerque to face I-25 rival New Mexico beginning at 4:30 p.m.  Click on the link provided for a free live stream of the game.