Courtesy of NMSU
LAS CRUCES, N.M. – Head Coach Doug Martin announced that his team will begin spring football practice at 8 a.m. (MT), Monday, March 30 in Aggies Memorial Stadium.
The Aggies, who were 2-10 in 2014, are scheduled for 15 full practices, which includes a scrimmage on April 18 and the Spring Game on Saturday, April 25.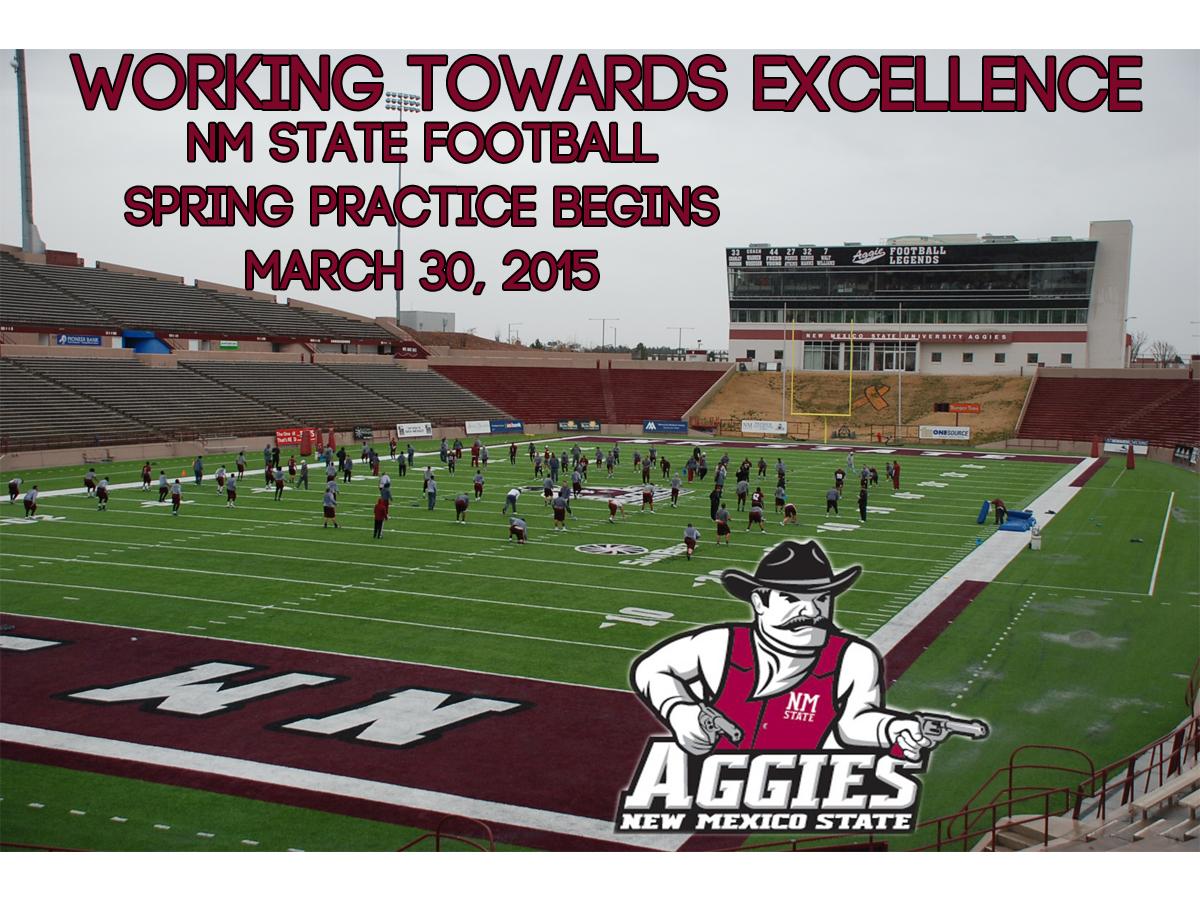 Coach Martin and his staff have already set up objectives for this spring and have already been hard at work to prepare the team for the upcoming season.  The coaching staff is excited to see what kinds of leaps and bounds are made by returners such as junior quarterback Tyler Rogers, wide receiver Teldrick Morgan and sophomore running back Larry Rose III, along with junior linebacker Rodney Butler, sophomore linebacker Derek Ibekwe and junior defensive back Kawe Johnson.
"As a staff we will be evaluating the guys who played a lot of downs for us last season, while also keeping an eye on the three junior college kids we brought in. We want to see them develop and we want to get a good look at them, as well as some freshmen that took a red-shirt, such as [linebacker] Will Clement and [defensive back] Malik Demby," said Martin.  "Each position is wide open. Every member of the team knows they have to work for and earn the position they want to play in."
Clayton Granch is a 6-3, 240 lb. tight end, native of Buena Park, Calif., who transferred in from Long Beach C.C. PGranch was a two-time all-conference selection at tight end, earning second-team accolades as a freshman in 2013 and first-team honors this past 2014 season for Long Beach Community College. He caught 12 passes for 192 yards and two touchdowns his sophomore year and had 17 receptions for 365 yards and three TDs his opening season.
Anthony McMeans, a native of Greenville, Ala., is a 6-3, 320 pound center who led the offensive charge for Arizona Western this past season and helped his team to an 11-1 overall record.  Arizona Western tallied 2,895 yards rushing for an average of 241.2 yards per game while posting 30 rushing touchdowns.  He finished as a second team All-WSFL and All-ACCAC center after the season (Western States Football League and Arizona Community College Athletic Conference, respectively). Before AWC, McMeans played football for Greenville High School in Greenville, Ala. under coach Ben Blackmon and graduated in 2011. In his senior campaign, McMeans helped the Tigers to 10-2 record and an Alabama High School Athletic Association Class 5A Region 3 championship.
TyrianTaylor, a native of Orlando, Fla., is a 5-8, 165 pound wide receiver with superb speed. The Aggies lost the likes of Adam Shapiro and Jerrell Brown at the wide receiver position and Taylor should compete for playing time immediately.  Taylor finished the season with 61 receptions for 1,029 yards and 10 touchdowns. Two of his touchdowns came in the Graphic Edge Bowl when Ellsworth CC defeated No. 17 Dakota-Bottineau 39-7.
Clement was a starting linebacker for Kinkaid High School in Houston, Texas for three seasons. As a senior, Clement recorded 57 tackles, four sacks, five quarterback hurries and two pass break ups, helping his team to an 11-0 record and the SPC Championship.
Demby is a safety from Chino High School in Chino, Calif. As a senior, Demby recorded 74 tackles, 52 solo efforts, 16 tackles for a loss, seven sacks, an interception and a pass break up. He was named All-Mt. Baldy Defensive MVP and a first team all-league member.
"On the offensive side of the ball we are really hoping to develop the quarterback position, while defensively we want to continue to make progress at each position," Martin said.  "Continuing to develop and improve the team chemistry will be key."
The Aggies finished the 2014 season with 179.3 rushing yards per game and 241.6 passing yards per game.  Larry Rose III gained 1,160 yards as a freshman averaging 5.9 yards per carry while receiver Teldrick Morgan caught 75 passes for 903 yards receiving.
Defensive back Winston Rose returns to the Aggies as he led the way with five interceptions on the year.  The top four tacklers from last year's team also return to action, which include linebackers Rodney Butler, Derek Ibekwe, Dalton Herrington and Kawe Johnson. Butler and Ibekwe each marked over 100 tackles on the season while Herrington and Johnson had 85 each.
The first 30 minutes of each practice will be open to the public.  The scrimmage will be open to the public for the entire time. Any media requests should be made to media relations contact Eddie Morelos 24-hours in advance by contacting him via email (emorelos@nmsu.edu) or phone (575-642-5746).
SPRING FOOTBALL PRACTICE SCHEDULE
Mon. March 30, 2015 – 8am
First day of Practice (Helmets No Contact)
Wed. April 1, 2015 – 8am
Practice 2 (Helmets No Contact)
Fri. April 3, 2015 – 8am
Practice 3 (Shells No Tackle)
Sat. April 4, 2015 – TBD
Practice 4 (Shells No Tackle)
Mon. April 6, 2015 – 8am
Practice 5 (Shells No Tackle)
Wed. April 8, 2015 – 8am
Practice 6 (Pads Tackle)
Fri. April 10, 2015 – 8am
Practice 7 (Shells No Tackle)
Sat. April 11, 2015 – TBD
Practice 8 (Pads Tackle)
Mon. April 13, 2015 – 8am
Practice 9 (Pads Tackle)
Wed. April 15, 2015 – 8am
Practice 10 (Pads Tackle)
Fri. April 17, 2015 – 8am
Practice 11 (Shells No Tackle)
Sat. April 18, 2015 – TBD
Scrimmage
Mon. April 20, 2015 – 8am
Practice 13 (Pads Tackle)
Wed. April 22, 2015 – 8am
Practice 14 (Helmets No Contact)
Sat. April 25, 2015  – SPRING GAME
TIME: TBA