Courtesy of NMSU
LAS CRUCES, N.M. – Aggie fans can get their first look at the 2015 New Mexico State football team, Saturday, April 25 at 1 p.m. (MT) during the Spring Football game in Aggie Memorial Stadium.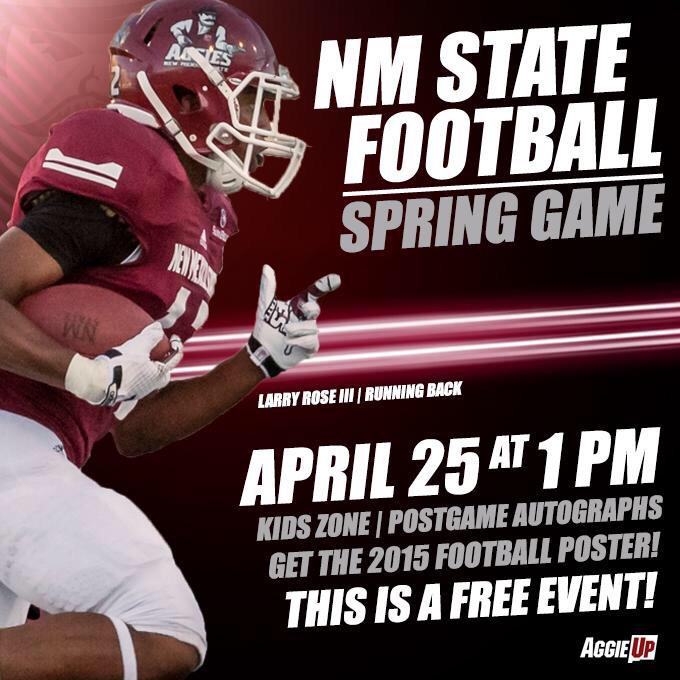 This marks the third Spring Game for Coach Martin and is the last of 15 allowed practices during the spring season before resuming full team practices in the fall.  The game is open to the public and admission is free.  There will be a Kids Zone in the stadium and this will be the first chance for fans to get a hold the 2015 football poster.  Players will also be available for postgame autographs.
The Aggies are tentatively scheduled to play four 12-minute quarters, using a scoring system where both the offense and defense and earn points. The game will also be streamed live on NMStateSports.com.
Spring Game Scoring System
Defense
6 Pts = Turnover
3 Pts = 3 & Out
2 Pts = 4th Down Stop
2 Pts = Sack
2 Pts = Stop 2 Pt Play
2 Pts = Forcing Punt
1 Pt = Tackle For Loss
Offense
6 Pts = TD
1 Pt = PAT
3 Pts = FG
2 Pts = 2 Pt Play
1 Pt = 12 Yard Run
1 Pt = 18 Yard Pass
1 Pt = 4th Down Conv.